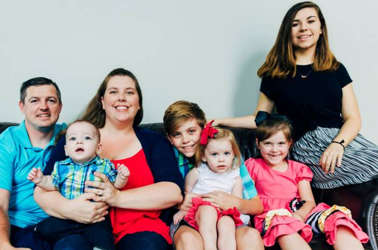 "THE GRATEFUL SERVANT"
At First Community Mortgage (FCM) we are so grateful to serve those who serve others. Veterans are one of a kind people who choose to put everything on the line to serve their country and protect our freedoms. They are the kind of people who run to help in times of need, sacrifice a normal life away from their loved ones and everything that is normal to protect us here at home.
A home is something FCM employees work hard to give our customers. We don't want to just help our customers find a house, we want to find them a home — after all, home is where the heart is. If we can help a family say they own the home of their dreams, we know we have succeeded.
The Hunnicutts are one of those families we are so grateful to serve. Mike and Cortney Hunnicutt recently purchased their dream home in Franklin, TN, only seven houses away from Cortney's sister, Shannon Pellatiro, who happens to be an FCM employee. This home will be a place their five children will make memories in that will last a lifetime.
Mike is a Metro Domestic Violence Police Detective and has served on the force for 11 years. He is also an Army Reservist, with 16 years of service to his country and has been deployed to Iraq and Afghanistan. He was recently promoted to Sergeant.
Cortney works at a daycare in Franklin, TN and plans on starting her substitute teaching with Franklin Special School District (FSSD) and Williamson county. She has a dream of teaching elementary school full time once all her children are of school age.
The Hunnicutt family is the definition of what it means to give to your community and your country. FCM was so happy to help them with the purchase of their dream home, and in their dream neighborhood with family just minutes away.
This house was not easy to come by as it had multiple offers, but their loan originator, Molly Catino, was able to make their dreams come true. She was with them every step of the way to make sure they were taken care of and the process was seamless.
"I'm grateful I can help veterans and their families find their dream homes," said Catino. "I remember being at the closing only a few days after Cortney had given birth to her fifth child, and on top of that, her husband was leaving to go on reservist duty in just a few days."
Molly took the extra steps to help the Hunnicutts in any way she could, knowing that would alleviate any unnecesary stress with the loan process — the human mortgage way!
Even with the chaos and stress of having a baby, purchasing a home, and having a husband and father heading out for duty, came a happy and beautiful moment when the Hunnicutts closed on their dream home.
Their children, Alora, Baylor, Temperance, Addilyn, and Liam can grow up with family down the street, in a great school district, and in a home filled with love, laughter, and memories.
These are a few reasons why FCM is so grateful to help Veterans and their families find their dream homes. We want to thank them for being brave enough to leave their families behind and fight for our freedom. We are thankful they choose us to help guide them home, and we are thankful to serve YOU.