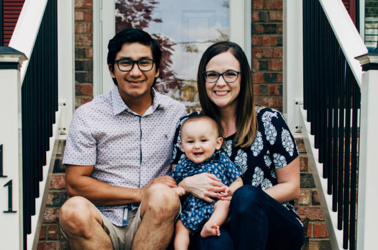 "THE MISSION"
In 2010, Ashleigh was on her first mission trip with her church, Fellowship Bible Church, in Brentwood, TN. They were making their way to Iquitos, a village in Peru, which happens to be the largest city on the Amazon River.
Ashleigh is from Manchester, TN, a small town 60 miles south of Nashville. She went to Peru on an Evangelical Outreach Mission, and never expected God had another mission set out for her.
Genaro was the worship leader of the church Ashleigh would be working with, while also working in the Amazon as a Tropical Forest Ecologist doing habitat conservation. He lived in a 1,600-square foot house in Iquitos with his family, which consisted of his parents, five siblings, and four nieces and nephews. This is very common in Iquitos with the Latino culture being very loving and family oriented. The home had no running water or air conditioning, and his family used buckets of water to shower.
Ashleigh and Genaro were drawn to each other through their passion for the Lord. Ashleigh quickly learned Spanish to communicate with Genaro. A relationship sprouted and continued through four more mission trips and letters written back and forth during their time spent apart.
As their relationship continued to grow, Ashleigh took a leap of faith and moved to Peru to live with a family there. Genaro's sense of humor and family values drew her to him even more. She was there for 6 months and in 2014, they got married in Peru with their families by their side, both of which have been incredibly supportive of their relationship.
After living in Peru for a year together, they made the decision to move back to the United States. Genaro was overwhelmed at the thought of starting from zero, but being with his wife was the most important thing. His mother was sad to see him go, but excited about the new opportunities for him in the U.S.
In November 2017, Ashleigh and Genaro welcomed their son Noah, 2 months earlier than expected! Genaro's family was unable to make it to the states for his birth due to denied visas, but in October this year they will be bringing Noah to meet his grandparents for the first time back in Peru. They are so excited to share Genaro's culture, family, and home with Noah, who is a dual citizen.
Ashleigh currently works as a Physical Therapist, and Genaro is a horticulturalist at the Opryland Hotel in Nashville, TN. Eight years have gone by since they first met, and now they are on a new mission to purchase a home together with First Community Mortgage (FCM) by their side.
They currently live in a townhome and will be making the move from Nashville to Murfreesboro, TN, to be closer to Ashleigh's family and have more space for Noah to play.
Buying a home here in the United States versus in Genaro's home country are vastly different. In Iquitos, you only need a notary to sign off on the house you're looking to purchase. It has been overwhelming for Genaro, but thanks to JR Eastman, their Loan Originator, the Orellana's feel like they've been able to truly understand the process thanks to the human touch they've received. It was as simple as walking into the FCM office asking to speak to a Loan Originator after hearing a radio ad. She ultimately met JR and just knew this was right. At times it's been as simple as a text message being sent from JR that has made them believe he really cares and wants the best for their family.
As their mission of purchasing a house comes to a close, a new one begins when they start making memories in their new home. It all started with faith in the lord, and even though Genaro jokes, "He was the mission," it turned into a mission that has brought true love, marriage, a baby, and a place to call home.